Allt Dubh Pickups are a custom hand wound pickups from my workshop in Blackburn. We use the highest grade magnets ranging from AlNiCo II, III, IV, V, VIII, Neo, Ferrite to different sizes and assorted grades of  ceramic to give you that distinctive tone. KGS pickups are available in Humbucker, P90, Strat style singles and Tele style singles. Ohms/ Henries range from cool vintage to hot and spicy, with everything in between.
A load of local guitar players now have our pickups fitted, although our most famous customer to date is Baz Warne from The Stranglers who used both a neck and bridge of my Tele Blade humbuckers in his stage guitars.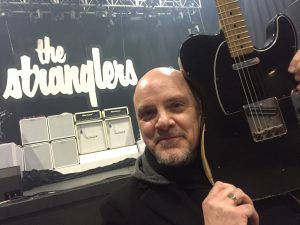 Louie…A few words for Graeme Mennie… "I love Graeme's pickups…they've got character, warmth, and plenty of guts, but they still retain that essential twang that I need in my Telecasters…they remind me very much of the old original Fender single coils, but with extra clout…lovely…I'm getting his pickups put into all my stage Teles from now on… He's also a very nice chap…with that kind of mild mannered eccentricity and boffin-ness you need in the guys you entrust your babies to…you go to his house and he lays your guitar on an old ironing board in his conservatory to work on it…I love that" Baz W .10 March 2016
KGS Pickups – The "Bazbucker". As used and endorsed by Baz Warne of The Stranglers…..
A dual blade humbucker vintage output pickup for the bridge position in a Telecaster.
7.50 Ohms             5.10 H          42 AWG      Ceramic magnet.
A dual blade humbucker vintage output pickup for the neck position in a Telecaster.
6.03 Ohms              5.00 H         42 AWG      Ferrite magnet.
For more information, availability, pricing etc. drop me a line.
Check out the new website…. Allt Dubh Pickups.
cheers
Graeme